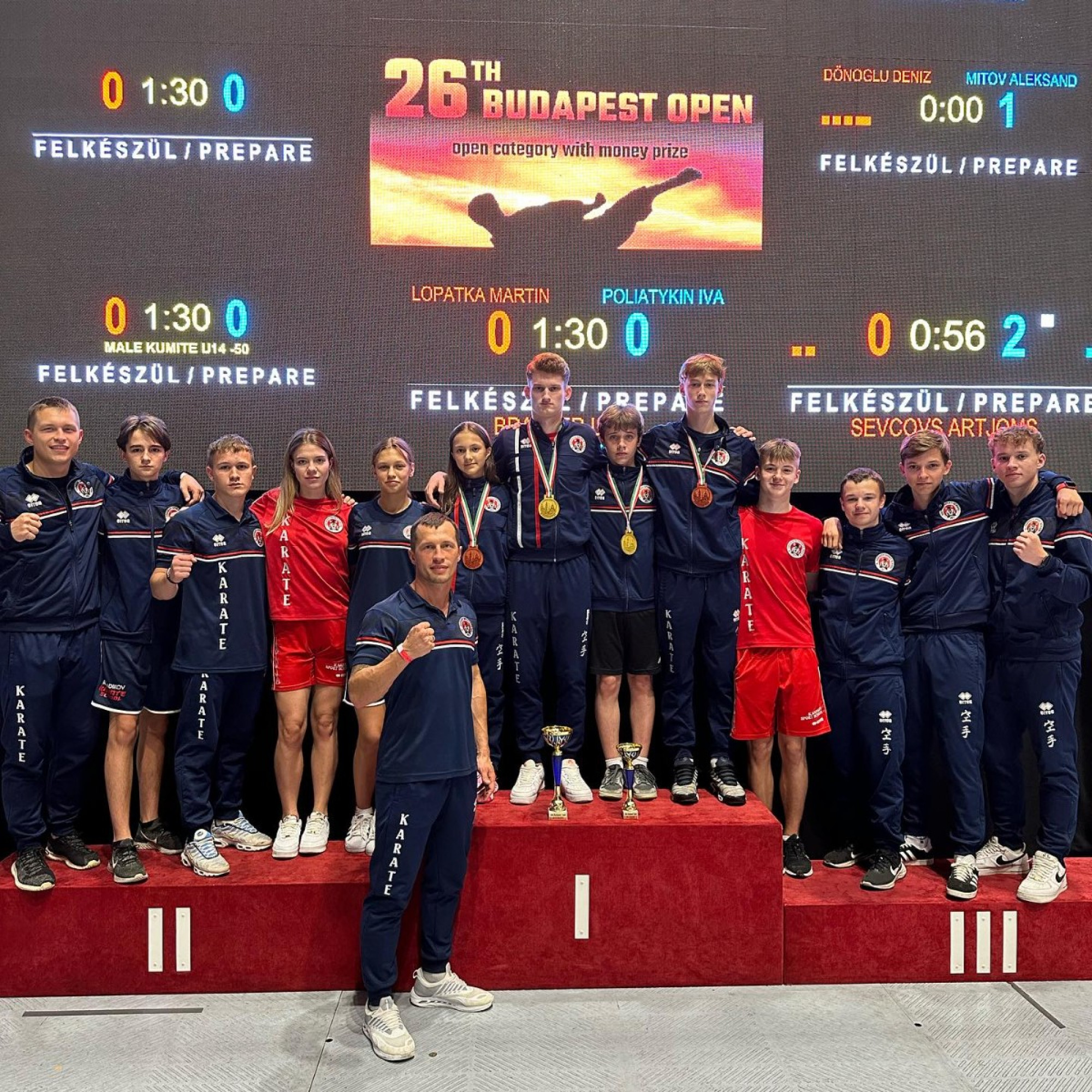 Budapest Open 2023
The school year has barely begun when the RS team is already returning home after the first tournament of this season, Budapest Open 2023, which gathered more than 2000 participants from 37 countries over the course of two days.

The RS team was represented by athletes from the age of 11. And in all age groups, the team managed to win a medal.
Unfortunately, our coach and athlete Den Sadikov suffered a knee injury, he was forced to stop his performance after the third fight in order not to aggravate the injury, which did not give him the opportunity to continue fighting for a medal. Still, Dan showed great technique and the will to win.
Oss
Best results:
1st place - Artūrs Stepanovs U21 -67 kg
1st place - Roberts Puķe U18 -76 kg
1st place - Nikita Garkavijs U14 -50 kg
3rd place - Maksims Azans U16 -57 kg
3rd place - Arina Nikonova U12 -40 kg
5th place - Danila Lazarevs U18+76 kg

Unfortunately, not all teammates managed to perform well, but everyone worked hard, and we love them for it, as always. But you want to review the most beautiful moments of the fight again and again.

Congratulations and proud of the piece!
We thank the coaches!
Respect to parents for their support!
World Championship among cadets, juniors and U21 in Konya, Turkey
The karate World Championship between cadets, juniors and U21 ended.
26-30 In October, the Turkish city of Konya hosted 1,861 athletes from 105 countries. It was a long-awaited event, since the previous World Championship was 3 years ago (it was supposed to be 2 years ago, but was postponed due to epidemic restrictions).
Despite the fact that many athletes of the Latvian team were quite confident and went far, they lost to their opponents one step away from the fight for a medal. We will analyze, correct errors, introduce corrections. A lot of work ahead, but the team is focused and wants to win, so everything will come together.
Congratulations to Kristian Anri Peterson on 7th place.
Aleksander Obernihin (3 wins) and Arturs Stepanovs (2 wins) demonstrated good technique and spirit.
Very strong teammates Leon Gaiduk, Artyom Yermolaev, Dmitry Kuznetsov, Valentin Grigorovich failed to show all their master, but soon we will see the new Fatality again.
We thank the clubs, coaches and the Latvian Karate Federation for their support, organization and cooperation.
We also congratulate Latvian karate players Edgars "The BearSlayer" Skrivers on his victory and Kalvis Kalnins on his debut in Karate Combat fights
See you on the tatami! Oss!